Exposure-Group Nordfriesland
The second Day in Nordfriesland
The first Day in Nordfriesland
Exposure Group No. 2
The Church District of Nordfriesland invites you to focus on Climate Justice
The church district of Nordfriesland comprises of 66 parishes with 110.000 church members altogether, which is 75% of the total population. It is situated between the river Eider in the south and the Danish boarder in the north.
The maximum distance from south to north is approx. 120 km, from east to west is 90 km. There are 88 church buildings, 55 parsonages and 23 church community buildings.
People to know from Nordfriesland
Hans Baron
I work as a theological teacher and advisor at Christian Jensen Kolleg Breklum, at Akademie Sankelmark and at Akademie der Evangelischen Kirche Norddeutschlands (Academy of the Evangelical Church of Northern Germany). It is my task to give courses, seminars, conferences and events. I hold speeches and write texts. I am responsible for the climate exhibition "Der achte Tag (The 8th Day)" at Christian Jensen Kolleg Breklum and I frequently lead groups, school and confirmation classes through the exhibition.
I am married to Susanne Baron and we have two daughters. Rebecca is 25 years old and studies Medicine at University of Freiburg and Marlena is 21 years old and studies Hospital Management at Flensburg University of Applied Sciences. I have a sailing boat and I like to woodcraft. Additionally, I like to go to the theatre, the cinema, to speeches and concerts.
Andreas Raabe
Born on May 5, 1964 in Lübeck My wife is a pastor as well Since 10 years, I am the pastor of the "Friedenskirche" (Peace Church) in Husum Prior to that, I used to be pastor in the small North-Frisian village of Hattstedt for 10 years I love North-Frisia, since it is a region where you can enjoy nature in all its beauty. My hobbies are taking pictures and cycling, and both of them can be very conveniently performed in this region.
Ecumenical issues I have organised youth exchanges with parishes in Estonia for 10 year, and my current parish does have a partner parish in Papua-New Guinea. I am dealing with ecumenical affairs since my time as a student. I am very much interested to learn how people do perform the faith in different cultures: What can I learn from them, what is my own position, and where are disjunctive issues, still?
Karsten Wolff
Consultant for Ecumenical Christianity at the Protestant Regional Centre in Breklum Karsten just recently started working at the Protestant Regional Centre in Breklum as the successor of Hauke Christiansen and sincerely hopes that he will be able to continue the excellent work Hauke did. Karsten is a German citizen, and has master degrees in geography and tropical agriculture. Since some two decades he is working on issues of international development, with a special focus on agriculture and rural development, food sovereignty, genetic engineering and global justice.
From 2002 to 2010, he used to work as a professional, seconded by Bread for the World, in Asia, which he considers to be his second home. After coming back to Germany in 2010, Karsten worked as a consultant for Misereor on issues of climate change adaptation in Asia, before freelancing with several NGOs on organisational development and fundraising. Karsten is married to Christine and has two cats which he loves very much as well. His personal interests are jazz music, literature, motorcycling, and scuba diving. He is very fond of the ocean and loves especially marine mammals, such as whales and dolphins.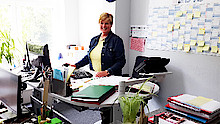 Birgit Breder
54, married, two children. Church Administration of the deanary Nordfriesland Department for building and cultural heritage. Chairwoman of the Tanzania-Partnership- Board. Woman´s and Childwork
Education, Chamber of Industry and Commerce:
Certificate of Qualifying Examination as Clerk for Office Management.
Certificate of Qualifying Examination as Instructor
Certificate of Qualifying Examination as Office Manager
Laguages:
German: Mother tongue
English: Proficent User (C1)
French: Advance User (B1)
Personal Interests: Traveling, different cultures and languages, Ecology, Economics, Swimming, Diving, Garden work Chairwoman of the members of staff.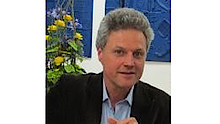 Andreas Schulz-Schönfeld
I am married to Katja Schönfeld and we have three boys (Jona, 17 years, Jakob, 11 years and Elija, 9 years). They are all attending school. We live in a house in Bredstedt, which is 3 km away from Breklum, with our dog Debbi. I am an ordained pastor of the Ev.-Luth. Church in Northern Germany and served in Jerusalem and Hamburg.
Since seven years I am working as a secretary for Ecumenical Education in the Centre for Global Ministries and Ecumenical Relations. My main working place is the Christian Jensen Kolleg in Breklum, where our group is staying. My tasks are creating and leading seminars, taking care of our Mission library, our archive and the OneWorld exibition. My hobbys are: Playing guitar, craftsmanship work at our house, reading and singing in a choir.
Meet our Guests:
Lynn Martin
I serve as the pastor/teacher of Community Congregational United Church of Christ in Pinckney, Michigan USA. For the last 10 years I have grown to love this group of people as we study, learn, and serve together. Pinckney is a small village of 2500 people 50 miles west of Detroit, the city known for making automobiles. Serving in a small town is a great experience as I am involved in many community events. Time spent with ecumenical colleagues is wonderful and time to meet with our local government, schools, library, and service agencies takes up a lot of time during any week. My interests are literacy, recycling, hunger, homelessness, and addiction.
Before arriving in Pinckney I was a member of the Evangelical Lutheran Church in America and a graduate of two of their schools, Capital University with a Bachelor of Arts in English Literature and Religion and Trinity Lutheran Seminary with a Master of Divinity degree. I have served on the Committee for Ministry of our association and worked with those seeking to be licensed, commissioned, or ordained in the UCC. I have also served on our association Executive Council. What a joy to be able to see how the "larger" church works.
My hobbies include reading, gardening, traveling, kayaking, and taking long walks in cooler weather. I am also a huge fan of Major League Baseball and American College Football. I am single and live with my dog, Tanner and three outdoor cats Nose, Trio, and China. May peace be yours as we prepare for such an exciting opportunity to join together.
Ilunga Nkasa Talwa
Married and father of seven (two daughters and five young boys)
My wife is named: Belange KASHALA MUMBA
My parents are alive
I'm 44 years old
Studies: Graduation in English Literature at the University of Lubumbashi.
Professional experience: From 1999 to end January 2014, Assistant working for the International Committee of the Red-Cross.
I have resigned in order to serve God as the ELCCo's General Secretary.
Languages: I speak Kiluba, Swahili, Lingala, French, English, a few words in German, like Ich weiss, meinName ist,(sorry!)
My favourite sport is football. I am open and direct(I enjoy sharing with people who go straight without turning around) maybe my weakness
Sonia Skupch
My name is Sonia Skupch. I am an ordained pastor of the Evangelical Chuch of Río de la Plata, a united Lutheran-Reformed Church in the Rio de la Plata region. The church serves in three countries: Argentina, Uruguay and Paraguay.
I studied theology at the Instituto Superior Evangélico de Estudios Teológicos (ISEDET) in Buenos Aires. During those years at ISEDET, I participated in an exchange program with the Faculty of Theology at the University of Leipzig, Germany. After graduating from ISEDET, I served as vicar in a circuit of five rural parishes in the Argentine Patagonia. I was ordained there and at the same time it was my first pastorate. Once I finished with my first appointment, I was called to serve as a pastor in the city of Paraná in the province of Entre Ríos.
Since 2011 up to the present day, I am serving as the General Secretary of the Evangelical Church of Río de la Plata and Ecumenical Officer at the Headquarters of the Church in Buenos Aires. I am 39 years old, married with two children. Micaela is 10 and Lucas is 7 years old. My husband Carlos Amarillo serves as a pastor in the province of Buenos Aires.