Exposure-Group Plön-Segeberg and Ostholstein
Exposure Group No. 10
The Church Districts of Plön-Segeberg and Ostholstein invite you to focus on justice as a common path.
The church district of Plön-Segeberg comprises of 35 parishes with a total of 126.600 church members, 69 pastors, 2 deans, 930 employees, 200 employees in diaconal services and 3.500 people being engaged in work on honorary basis. The church district of Ostholstein comprises of 36 parishes with a total of 116.000 church members, 70 pastors, 2 deans, 850 employees and 4.000 people being engaged in church work on honorary basis.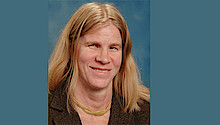 Elizabeth L. Sammons
Elizabeth grew up in a small town in Ohio, an agricultural state between New York and Chicago. She loved foreign languages, so she lived in Switzerland as an exchange student for a year after high school. She learned much about the diversity of Christian faith while in Europe. She was one of the first exchange students who is blind. Afterwards, she continued learning several languages and studied journalism at university.
In 1990, Elizabeth became a guide on the U.S. Information Agency's citizens exchange exhibit to the then Soviet Union. She continued for the next decade as a Peace Corps volunteer teaching English in Hungary, a manager of a news advocacy group in Kazakhstan, and a teacher, interpreter, marketer and cross-disability advocate in Novosibirsk, Siberia. For the last 10 years, she has worked with a state agency in Ohio that helps people with disabilities find employment. Elizabeth is married and has one daughter, now in university.
She still uses her interpreting skills with church and academic groups visiting Ohio. She served on the Holy Trinity Evangelical Lutheran Church council 2006-2009 and was president for one year. She is one of the Southern Ohio Synod's international partnership leaders. She was also an active member on the Ohio Governor's Council of People with Disabilities 2003-2009. She has completed her first novel, "With Best Intent." Her literary blog is at windowsofthought.wordpress.com.
Anthony Sona
Greetings from Doolahat Lutheran Parish, Doolahat, Lakhimpur,Assam, INDIA, to all the warriors of ZMOe and their families in the name of our Savior Lord Jesus Christ. I am Rev. Anthony Sona, pastor of Doolahat parish have been working as minister since 2006. Our locality, which is located near the Arunachal Pradesh broder, which is a broder area of China itself.
Regarding my congregations that 90% of the believers are belong to the Tea Labourer and daily wagers by occupation. Although they are not financially rich but they are rich in Spirituality without any baseless arguments and doctrine. They just believed and co-operated whatever the church activities. They have a good respect of the ministers and they fully believed on him/her. Indeed, there are a small fist of people who sometime, astray or trying to manipulated other faiths, which is natural in all the congregation. Sir, I must say it is God's immense blessing that still we do not have any type of communal disputes in our area.
We celebrate all the festival by inviting other faiths, i.e. Pre- Christmas Celebration, Gospel Dance Competition, Children Bible Class, Vocational Bible Study, New year Celebration and so on. The young people from other faiths used to joined with us without any religious dogma. But from the last year our churches are facing some kind prohibition from the government because now our country is govern by BJP (Bharatiya Janata Party) which is known and stand for the religious enthusiasm or orthodoxy mentality towards other faiths mainly the minority groups. And we do pray for the Government and all the ruling people so that they ruled the country on the basis of other criteria rather than religion.
If so, the India will truly a Biggest Secular Country in the world. Sir, it is like showers of blessing that I received from my church and ZMOe, by inviting me to attend the programme in Germany. The topics and agendas are really very much contextual. Yes, it is our up most responsibility to take care of God's creation for our future generation as well as to sustain the balance between the nature and human kind.
I must bestow all my best regards for the grand success of the coming programme. Secondly, it will be my personal experience to meet the different people, their climatic condition, their response to the climate, preparation for future sustainability, current issues, steps for economic development, political situation, and a lot of insights, which I believe, will be a great help for my church and my society respectively. Hope, the coming programme will give not only me but all the participants a bunch of keys of success over all the shortcoming in both the church and society.