Exposure-Group Schleswig-Flensburg and Rendsburg-Eckernförde
The first Day in Schleswig-Flensburg and Rendsburg-Eckernförde
Exposure Group No. 7
The Church Districts of Schleswig-Flensburg and Rendsburg-Eckernförde invite you to focus on Climate Justice and the situation of and challenges for church(es) in rural areas.
The neighbouring church districts are formed by all in all 104 local congregations and are situated in the north eastern part of the province Schleswig-Holstein, from the Danish boarder in the North downwards – 120 km – into the countryside called Holstein. You will find some cities with up to 92.000 inhabitants and on the other hand little and real small villages.
As all over the country the so called structural change is a challenge for civil services as well as for church activities. About 60% of the inhabitants are members of the Evangelical-Lutheran church; the structures of the so called folk-church are still vivid, respected and demanded.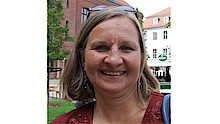 Marcia Meabon
My name is Marcia Meabon. My husband and I live in the house we have been building. Our children are both married, and I have one wonderful granddaughter. For many years I was a teacher, but I went to seminary and have become a pastor. I am currently serving Webster United Church of Christ in Dexter, Michigan. It is an old church by Michigan standards, having been built in 1834. It is a small congregation of 140, with about 75 in worship.
Webster works hard to be active in social justice and has worked with the homeless population in Ann Arbor, the nearby home of the University of Michigan. For over 10 years they were involved in the Sanzule Refugee Camp in Ghana, Africa. That ministry is ending, and they are beginning a ministry in Nicaragua. Michigan is in the eastern part of the Central United States. We are surrounded by the Great Lakes. I live in southeast Michigan, about 100 km from Detroit. Where I live there are many small freshwater lakes, and I live by one of them.
The land is fairly flat, and our elevation is about 275 meters above sea level. We are considered a temperate climate, with four seasons. Winters are usually cold and summers can be hot. The United Church of Christ is a church of mergers. It has roots in Germany with the Evangelische Church. During GDR times, a number of UCC pastors worked with their counterparts in Germany and formed a partnership of kirchengemeinschaft.
As the Michigan Conference has changed over time, the locus of this partnership moved from northern Michigan to the Conference level. I have been the Michigan United Church of Christ contact person for the UCC/UEK Partnership for a number of years. Since the formation of the Northern Church, our partnership naturally has changed as well. I look forward to seeing how we can continue to work together to further God's realm in this world.