Exposure Group Altholstein
The third Day in Altholstein
The second Day in Altholstein
The first Day in Altholstein
Exposure Group No. 1
The Church District of Altholstein invites you to focus on Justice for the Marginalised
The church district Altholstein comprises of 53 Parishes. The parishes are the centers for church life. They are "church on the spot" in rural as well as in urban areas. They proclaim the Gospel and accompany the people in their specific region. They are all different. Each parish is having its own profile.
There are City-Churches like St. Nikolai in Kiel and like St. Petrus Church in Henstedt-Ulzburg. Therefore each church and each parish is like home for the people who live there. The church district has been named Altholstein when the two church former districts Kiel and Neumünster merged in 2009.
People to meet from our Church
Participants from Altholstein
More about our work
Meet our Guests:
Severa Moris Massawe
My name is Severa Moris Massawe, with a famous name "Mama Munisi". I am Tanzanian woman age 53 years old. I am married with 4 children's, 2boys,2girls and 2 grandchildren, female and boy. I'am a Lutheran church member at Mwanga Parish in Pare Diocese. Professionally I am a public Health Nurse working at Mwanga Health Centre. I am residing in Mwanga which is a rural District in Kilimanjaro Region of Tanzania. The District headquarter located 55 kilometers South of Moshi town on the Dar es salaam,Arusha highway.
Evangelical Lutheran Church in Tanzania (ELCT) Mwanga Parish situated at Mwanga District town 58 km from Same Diocese office to Moshi. At ELCT Mwanga Parish I am chairperson at partnership churches committee, church elder in church committee and Orphan committee chairperson. My country is Tanzania which is among of the five East African countries, with a population of 44,928,923,male 21,861,990 and female 23,058,932.according to 2012 census, and growth rate is 2.9%.Over 100 different languages are spoken in Tanzania, making it the most linguistically country in East Africa.
Swahili and English are Tanzanian's official languages. Most Tanzanian's are now a days Christians and Muslims and there is a good relationship between the two religious in different aspects. Also for many years estimates have been repeated that about a third of the population each follows Islam, Christianity and traditional religions. Motivation to join the consultation is to discus different issues, experiences, successes challenges and how to over come them.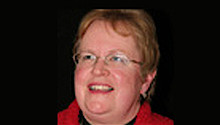 Revd Preb Maureen Hobbs
Vicar of Pattingham with Patshull Wolverhampton Area Adviser for Ministry Development Rural Dean of Trysull.
I have served in the diocese of Lichfield since my Ordination in 1997. Before training for the priesthood I worked as a professional linguist (I speak French and Russian) and then as a Recruitment and Management Consultant for a number of years. I have been involved in the church from my teenage years, but did not experience a vocation to ordained ministry until I was around 40 years old.
I grew up in the suburbs of London, but since Ordination I have worked in a town-centre church and in several rural parishes. My role now involves a split post, - half-time in the parish and half-time working for the Diocese as Ministry Development Adviser. I am also in my second term as a Rural Dean - which means that I have some oversight of around 16 other parishes and their clergy, working closely with the Archdeacon and Bishop. For 8 years I held the post of Dean of Women's Ministry for the Diocese and I continue to have an interest in this area. I have just completed 10 years as a representative to General Synod for the Lichfield Diocese.
General Synod is the national governing body of the Church of England which meets twice or three times per year. I was made a prebendary (or canon) of Lichfield Cathedral in 2012. I love my calling to be a parish priest, but I also enjoy having a wider perspective on the Church and this is what I am hoping to enhance by taking part in the Partner Churches Consultation in September.
My current parish is a relatively affluent community of around 3,000 people situated around 8 miles from the Centre of Wolverhampton - a large city with people of many different faiths and ethnic backgrounds. Pattingham itself is much more traditional and monocultural however. We retain a strong link with the farming community, but most of my congregation are professionals or have retired from the professions- teachers, doctors, engineers, scientists, accountants etc. The church is an active and vibrant community with a strong musical tradition.
We are the only place of worship in the village and so have members from a range of church backgrounds and traditions. Social attitudes are generally inclusive and welcoming.